Information: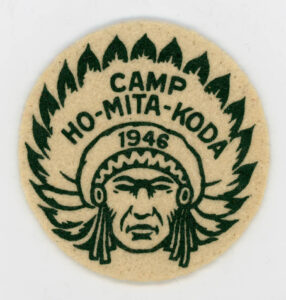 Ho-Mita-Koda Lodge # 380 is the first Lodge chartered in the Redlands area, then Redlands Area Council. It held a charter between 1948 and 1951 before A-tsa Lodge # 380 rechartered in 1955. It is unknown whether the Order of the Arrow existed in some unofficial capacity in the years of being disbanded. The Scout Council also appears to have disbanded, as Grayback Council would not be formed until 1955, the same time as A-tsa Lodge.
There was a 1946 Summer Camp in Barton Flats, which mentions both Camp Ho-Mita-Koda and Ho-Mita-Koda Lodge. Whether this was a permanent camp or an existing camp with the Lodge branding is unclear at this time. It seems likely that it was a re-branded version of Camp Tulakes, which the Grayback Council would acquire 9 years later.
The name, Ho-Mita-Koda is likely named after a camp in the Cleveland area for children with Type 1 diabetes. The camp has been in service since 1929 (and has their own history of patches to collect!).
Very little is known about the Lodge's existence, operations, or activities. They appear to have not participated in any early Area Conferences. No known insignia exists other than a 1946 Camp Ho-Mita-Koda felt patch. The patch includes an Indian insignia, but its not clear if this was intended to be solely a camp patch or incorporated the Lodge itself. Redlands Area Council did issue several activity patches but none seem to mention or give further evidence to the Lodge.
However, the name wasn't entirely forgotten because when A-tsa Lodge was large enough to have chapters, one of them was named Ho-Mita-Koda.
Ho-Mita-Koda Lodge Information
Years of Service: 1948 – 1952
Redlands Area Council
Totem: Hopi Thunderbird
Media