A-tsa Lodge # 380 was formed on November 28, 1955 and was the thirty-first Lodge to form in the State of California. The name is the Dine' word for "eagle," although it often appears in their writing as "atsa" or "atsa'."
Richard Balfour is listed as the first Lodge Chief. A-tsa was started at Camp Tulakes as part Navajo Lodge # 98's Pow Wow # 1. A-tsa Lodge inductees would continue to serve their Ordeal at Navajo Lodge Pow Wows for many years.
A-tsa Lodge's primary camp was Camp Tulakes, which was leased from the National Forest Service. Old Baldy Council originally was the lease-holder, before it was transferred to Grayback Council in 1955.
It was not the first Lodge in the area, which is why their charter date is listed as a reinstatement. Ho-Mita-Koda Lodge # 380 was chartered from 1948 to 1952 (some records list them as being dropped January 1951) before disbanding. It is not known if the Order of the Arrow continued in some unofficial capacity in the period. The local BSA Council also appears to have had a downturn, and the original Redlands Area Council became Grayback Council at the same time as A-tsa's founding.
A-tsa Lodge worked under a school-based fiscal year, generally running from September to August.
A-tsa Lodge joined Cahuilla Lodge # 127 in 1974, although some records erroneously indicate 1976. At this time, it is not known why the discrepancy exists.
A-tsa Lodge was the first Service Lodge in Section W4B, with the first Section Conclave held in 1973 at Redlands High School before they became a part of the newly-formed Cahuilla Lodge # 127. At that time, the area comprising the Lodge's territory became the A-tsa Chapter, which exists to this day.
Chapters
At one time, in the later years of the Lodge, A-tsa Lodge did have two chapters: Netami Chapter is thought to served the City of Redlands, while Ho-Mita-Koda Chapter is thought to have served the community of Yucaipa. There was another chapter called Macheau Aschin of unknown location.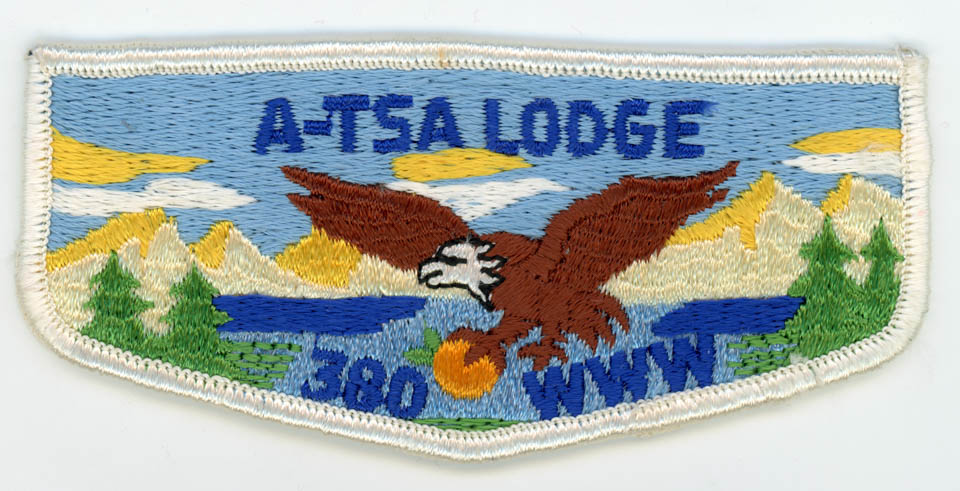 Lodge Information
Term of Service: 1955 – 1973
Grayback Council, 115 E. Redlands Blvd, Redlands, CA 92373
Redlands, California
Totem: Golden Eagle
A-tsa Lodge Pages