Na-Ko-Na Lodge # 551 was a short-lived Lodge charted to the Copper Council in Eastern Arizona. Local sources indicate it disbanded in 1963, while some National sources seem to indicate it existed and changed its name to Salado Lodge # 551. No matter what happened, the Lodge did not last long.
This was the second attempt to build a sustainable Lodge, after earlier Nisjaw Lodge # 338 was disbanded. In 1965, Salado Lodge # 551 was chartered and would exist all the way until its merger into Wipala Wiki Lodge # 432 in 1977.
Like its predecessor, the Lodge is not known to have to issued any memorabilia during its short time in existence.
First Salado Lodge Chief, Fred Turner, reports that most of Na-Ko-Na Lodge's history and records were lost in a fire at Camp Snow Flat at Mt. Graham in the Pinaleño Mountains on the evening of June 23, 1964. The camp's lodge was completely burned, leaving only the rock fireplace still standing.
Meow Gallery: The gallery is empty.
Lodge Information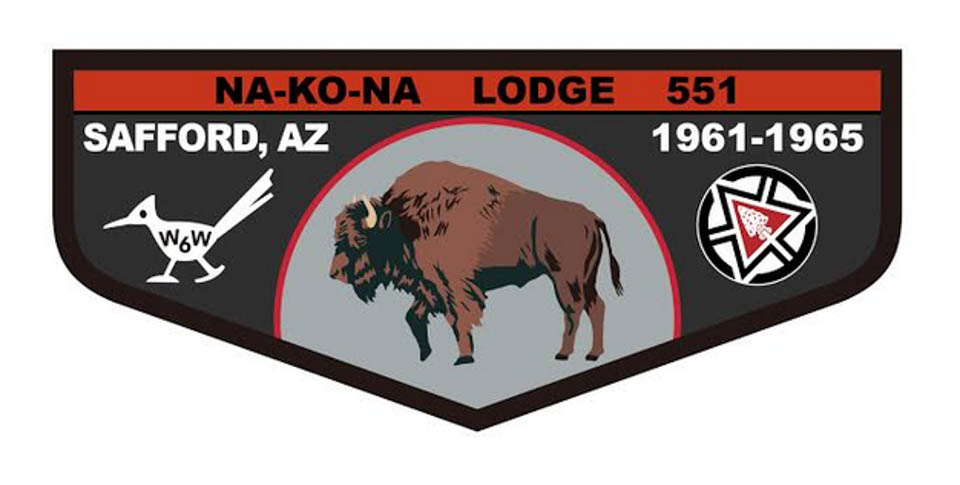 Years of Service: 1961 to 1963 or 1965
Totem: Buffalo
Three G Council and Copper Council
Safford, Arizona