Tahquitz Lodge # 127 was the 4th Order of the Arrow Lodge chartered in California, beginning on July 1, 1938. The Lodge was formed from their Pre-OA Society, Camp Emerson's Tribe of Tahquitz. Many early membership cards were listed as "Tribe of Tahquitz Lodge."
The first Lodge Chief, Charles Berry, was only 15 at the time of his service. Dr. Berry went on to work on the NASA Apollo program, pioneering many medical techniques used in space, and served as the Chief Medical Officer of NASA. If you remember Eagle Scout Ken Mattingly being grounded for measles exposure, it was Mr. Berry's decision. Cahuilla Lodge History Adviser visited Mr. Berry in Houston and he had fond memories of the Order of the Arrow, Scouting, and Camp Emerson.
Tahquitz Lodge was a part of Riverside County Council, one of the oldest BSA Councils in California. It's local camp was Camp Emerson, itself the oldest operating Scout Camp in the State of California.
Tahquitz was very influential in Southern California, performing many first ceremonies for Lodges, for instance, the first Vigil Honor ceremony for Pang Lodge # 532.
In the Great Consolidation of 1973, Tahquitz Lodge merged with Wisumahi Lodge # 478 to form Cahuilla Lodge # 127 with their first unified Lodge event held on June 1, 1973.
Page Contributors
Larry Krikorian
Dick Stodola
Frank Sydow
Lodge Information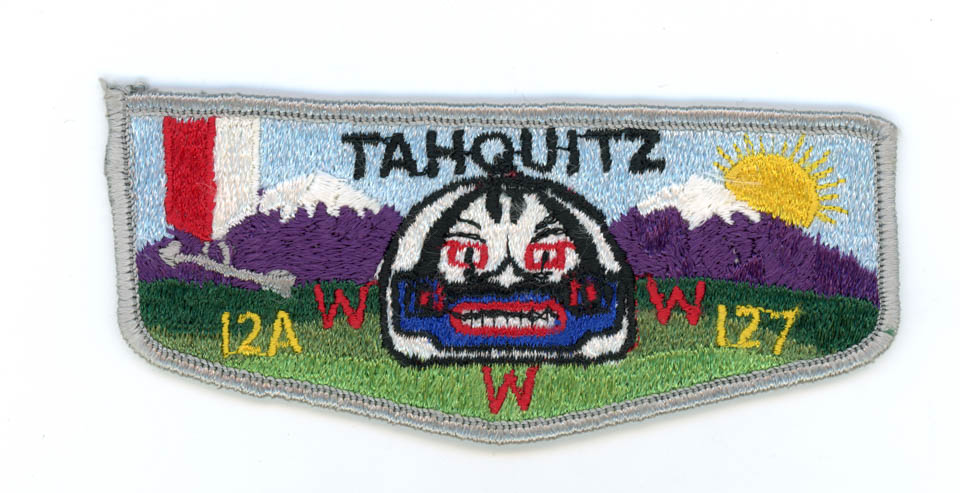 Years of Service: 1938 – 1973
Riverside County Council
Totem: Tahquitz Rock
Tahquitz Lodge Pages