Scouting Service and Awards
Troop 111, Riverside, California
Troop 137, Riverside, California
Eagle Scout, Riverside, California, Troop 137
Scoutmaster, Troop 137, Riverside, California
Scoutmaster, Troop 2, Riverside, California (1992 – 1998)
Post Advisor, Post 101, Riverside, California (1971 – 2008)
Order of the Arrow Service
2003 – 2004: Lodge Adviser, Cahuilla Lodge # 127
Awards and Honors
Education
University of Hawaii, Honolulu, Hawaii
Career
Firefighter, Riverside Fire Department
More About Frank Sydow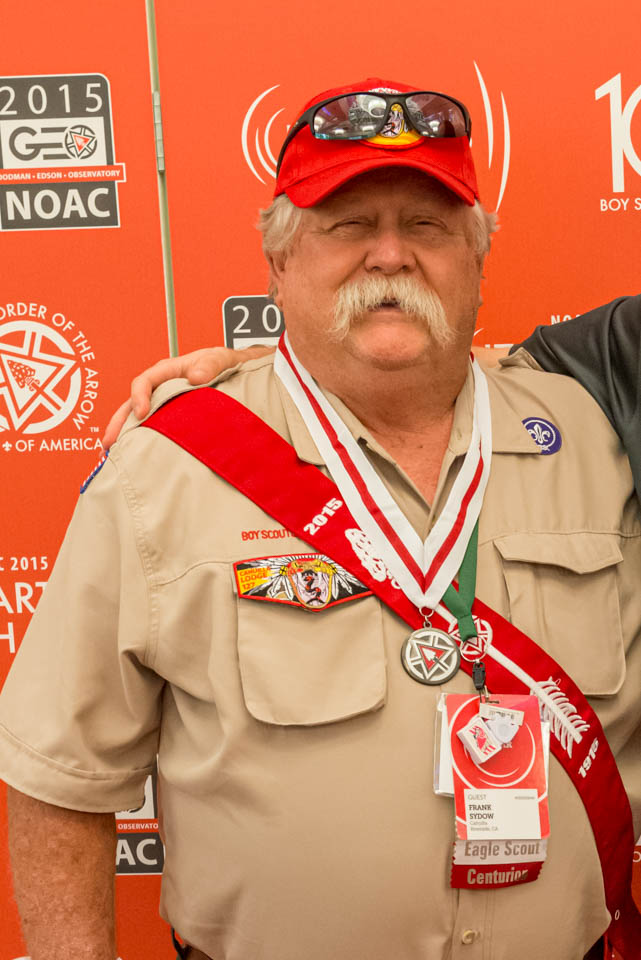 Frank Sydow's 70-Year Scouting journey began in Arizona. He enrolled in Pack 1 in 1952. He was first enrolled in Troop 1 in 1955 and Troop 3 in 1956, in Prescott, Arizona.
In 1956, he and his family moved to Riverside, California. Frank joined Troop 111 as a Second Class Scout and would be inducted into Tahquitz Lodge # 127 in 1957. The Lodge Chief at the time was Don Fitzloff, who would have a huge influence on Frank over the years.
In 1959, Frank joined the staff at Camp Emerson. Big Oak Flats was a new campsite at the time. Wes Wilson, a professional Scouter and future Scout Executive of Mount Whitney Area Council in Visalia, asked Frank if wanted to stay at camp and staff for the final 3 or 4 weeks. The pay was a dollar per day, and Frank said yes.
Frank would serve on staff at Camp Emerson until 1963. In 1964, Frank left for college and attended the University of Hawaii. Frank spent 1 semester at the university in Honolulu, then headed to the North Shore for another semester. There, Frank caught a serious case of the surfing bug, and who could blame him. In 1967, Frank even started a taxicab business on Oahu.
Back on the continent, in 1966, Harold Ultch invited Frank to go to Philmont (see here for the article the experience he and Joe Artino had). In 1967, Frank invited former Tahquitz lodge Chief Ron Richmond to attend. in 1968, Frank ended up on Philmont Staff.
Frank came back in February 1968 when he was selected for the Vigil Honor, a rare distinction as Tahquitz Lodge was always very sparing in their Vigil selections over the years. He thinks he was nominated by Joe Artino, Tahquitz Lodge Chief and a very good friend of his.
Frank was Scoutmaster of Troop 137 in 1969 and 1970.
Frank started with the Riverside Fire Department in 1970. In 1980, he was promoted to Engineer. He was put on a truck where the Captain was an Eagle Scout, Frank was an Eagle, and two other firefighters on the truck were Eagles. This was Station 3, Engine 3. Frank retired from the Riverside Fire Department in 2001.
In 1971, Frank started Explorer Post 101 in Riverside. In 1968, the Chief of the department sent Frank to a Kiwanis Meeting in Orange led by William Spurgeon about Career Exploring. The Riverside Fire Department Chief was also a member of Kiwanis, and the Department sponsored their Explorer Post.
In 1975, Frank began taking Explorers to the California Explorer Academy. It was held at El Toro Marine Base.
Frank served as the Post Advisor for 37 years, retiring in 2008.
In the years following the merger that created Cahuilla Lodge # 127, he never stopped serving his Fire Explorer Post in Riverside. For that, and additional work, he received the Silver Beaver in 1990.
Frank became the Scoutmaster of historic Troop 2 in Riverside and served from 1992 to 1998. Troop 2 is one of the best-known Troops in the Council. When his son, Erik, and others were elected to the Order of the Arrow, he became active again. Frank quickly became a key Associate Adviser in the Lodge, and was selected to the Cahuilla Lodge Adviser from 2003 to 2004. After remaining a key historian and adviser to subsequent advisers, Frank was selected in 2008 for the Founder's Award. It came as a big surprise to him, but when presenter Mac McLeod started by saying, "This Arrowman's service began in the Eisenhower Administration," Frank knew it was probably him.
For all of this work and service, Frank was a key recipient of the 2015 Centurion Award by Cahuilla Lodge.